Searching "Washing Car Near Me" Resolves Your Fastidious Demands. Right?
Unfortunately, no. This is because the definition of "the best car wash" is kinda undetermined. 
Is it best for you the fastest version? Or is the cheapest one best for you? Now we already understand that according to everyone's needs there can't be the best car wash for everyone. 
Visiting a girlfriend or going to a business meeting. Whatever is the reason, you notice your car has got dirty you most probably thinking "where is the best car wash near me?". Secondly, what type of service should you search for?
Nowadays, there are a lot of different ways to get your car clean but also each one of these types has its own upsides and downsides. 
Let's have a look at these pros and cons (and also a potential risk you might bump into) so you could search for the best version of car wash for you at the in a given situation. Unfortunately, there is no best of all for everyone.
Depending on the aspects below, everyone has their own preferences:
–       the environment where you drive your car,
–       your car's overall condition,
–       the time frame that you have for car wash,
–       and budget for a car wash.  
So let's discuss HOW TO find the closest car wash to your location that meets your needs and expectations in a given situation.
Search #1. "Hand Car Wash Near Me"
1. "Best Hand Car Wash Near Me"
Everyone probably would like to use only the best services, whether it is a haircut, restaurant, etc. Basically, no one wants to get bad service. The question is, how to determine the best hand car wash for instance. 
Also, who tells or defines the best ones so that Google knows it properly. I personally don't know how it would be possible. All these rating stuff actually doesn't work as it should. Everything can be tricked and manipulated. Also, there are always natural affecting aspects. For instance, many more people are giving feedback or reviews only when something goes wrong. 
I can tell it in my personal experience. My business gets on Facebook 5 reviews a year. 3 of them are 1 * reviews. That means, people, reviewing only if something goes wrong. 99% of well-done jobs won't get any feedback. This is sad but it is reality. 
Once, being a business manager, I received complaining about 1 particular operation in our hand car wash. The client told me that operation X  is included in every normal car wash. I disagreed. 
To get a fresh overview I checked every competitors price list in my hometown. Made around 10 false phone calls to my competitors and then I understood clearly that, it is not normally included. So I explained, every car wash shop has own price list and service descriptions. And sometimes there are differences between them. 
2. "Cheapest Hand Car Wash Near Me"
You need to understand that if something is cheap you should beware of some points. If we think logically and ask ourselves why are these car washes noticeable cheaper than other car washes in that area you can figure out several reasons. 
Let me ask, this hand car wash owner does not want to earn money? Not quite likely. The competition is so high in this particular area? Well, it is possible. All in all, be careful if something is relatively cheap. 
Are we gonna hope on the theory that this guy is a fanatic and does his job for fun?  Also not very high likelihood. Usually, this kind of business lacking of essential equipment, chemistry or training. 
Sorry, there are always a few exceptions, but the overall rule is if you don't charge what you are worth you won't have enough funds to continuously learn and develop yourself.
3. Mobile Car Wash Near Me
Mobile car wash is a good choice regarding saving your time. It would be really good to order specialists to a home, office or even in some cases to the shopping centre. Let's assume this particular shopping centre does not have a local car wash or it is fully booked. 
Actually, I personally own an auto detailing and hand car wash shop at the centre of my home town. Sometimes, when my car is dirty I don't have time to go there. Unfortunately, there is no reliable mobile car wash in my hometown yet. Will waiting until our Estonians guys startup Upsteam gets there. 
Summary #1.  
To sum up these topics, I would say: Do not blindly take the first occurrence place you find. Even, it is cheap, you should try to check some background. 
On the other hand, if someone claims to be the best one on their website, for instance, they should also give some arguments about why they are the best car wash in the city. 
In case your car has covered with some expensive car ceramic coating, you better consult your installer-detailer recommendations on how and where to wash your car when you are away from home. It might even be a good idea not to clean your car but leaving bug, tree sap or bird droppings on the surface can be damage your vehicles paintwork a lot. 
Take a look at this video and see what is possible to do with your car. There is a big difference between high gloss and mirror-like high gloss. (English subtitles are available)
Search #2. "Auto Detailing Near Me"
1."Car Detailing Near Me"
By the name, Car Detailing is a good choice for a car enthusiast or businessman, who needs to look good or as a car enthusiast who's car should be alway not just clean, but in perfect condition, most of the time, shine better than a brand new car. 
2."Best Auto Detailers Near Me"
For a start, you should define the meaning of  "best auto detailers". Well, it is easy to type anything to Google search box ask anything. Still, you need to be thinking and analytical person to make the right choice. 
It must be taken into account that there is no such a organisation or software who could actually tell people who are the best ones. Just to trick google search, everyone can describe on their own website as the best auto detailers or auto wash shop. 
Yet, if there is no argument added for, why they should be considered as the best in that particular area, then it is just a buzzword and there is no reason to take them seriously. 
For example, many car washes or detailing businesses in my country advertise themselves like  "10 years of experience" is also doubtful in some cases.
3."Mobile Auto Detailing Near Me"
By the headline, it looks really promising. Potentially good quality, versatile and complete packages. And at the same time, you waste your time at minimum range. Good choice! 
Search #3. "Self Car Wash Near Me"
If possible, use the same brand self-service service centres, because nowadays there are so many different suppliers for washing chemistry and all this stuff performing slightly differently. Still, there are a couple of main topics you should pay attention to self-service car washes. 
Don't start washing under sun heathen vehicle right away. 

Using brushes is always dangerous if your car clear is in good condition. 

Follow instructions. For instance, in case you put on your car some fast wax and you don't rinse it properly, it can stick to the surface really strongly. In some cases, it is not a big problem (white or silver-coloured cars), but if you have a dark-coloured car and hot sun burns the chemistry into the clear coat, the only possible removing by abrasive and polishing. It is not cheap, you know. 

Whether it is self car wash bay or you do it at home, make sure the rinse water is filtered properly. Otherwise, basically, the same problems will occur like in point c). 
2. "Coin Operated Car Wash Near Me"
Coin-operated car wash refers basically just to the available payment system. Well, actually all kinds of payment systems are developing at that high speed so that it is quite hard to keep up with new payment versions. 
Actually, coin-operated versions are just self-service car washes where you should pay attention to technical stuff. 
Search #4. "Automatic Car Wash Near Me"
1. "Drive Thru Car Wash Near Me"
In case you have a car in good condition better avoid any kind of car washes that use brushes. I know, every business advertising their brushes are so soft and can't really hurt your car, but this is only part of the truth. 
Let's assume, before you enter the car wash, there was a customer (a couple of cars before you, and you don't know about it at all) who sprayed some extra soaking liquid on his/her car. Let's say bitumen remover. Since this particular automatic service centre has no bitumen remover installed in the process, a lot of partly melted tar sticks to brushes. Is it a problem?
2. "Touchless Car Wash Near Me"
Regarding the previous bullet point, touchless car washes are always less dangerous to your car. Yes, sometimes they are not as effective as car washes with brushes but you could use them as an intermediate light cleaning to proper detailing sessions. When the car surface is well maintained and a really smooth, touchless car wash is a good choice to quickly get rid of the dust on your car. 
In this section, we are talking about a touchless car wash eg. tunnel wash, or automatic one. Well, it is possible to other car wash types touchless but in case the automatic one, I think it is most important. 
Wrap up
Each type of car wash has its own pros and cons. To be honest, in case you have just a rather cheap service car to drive, you really do not need to spend a lot of money on high quality detailing services. Touchless versions of self-service or automatic one are pretty good choices. 
Still, you have to keep in mind the smoother is the surface of your car the longer time, it will remain cleaner after the recent car wash. When a clear coat is totally ruined already it doesn't matter what way you wash your car.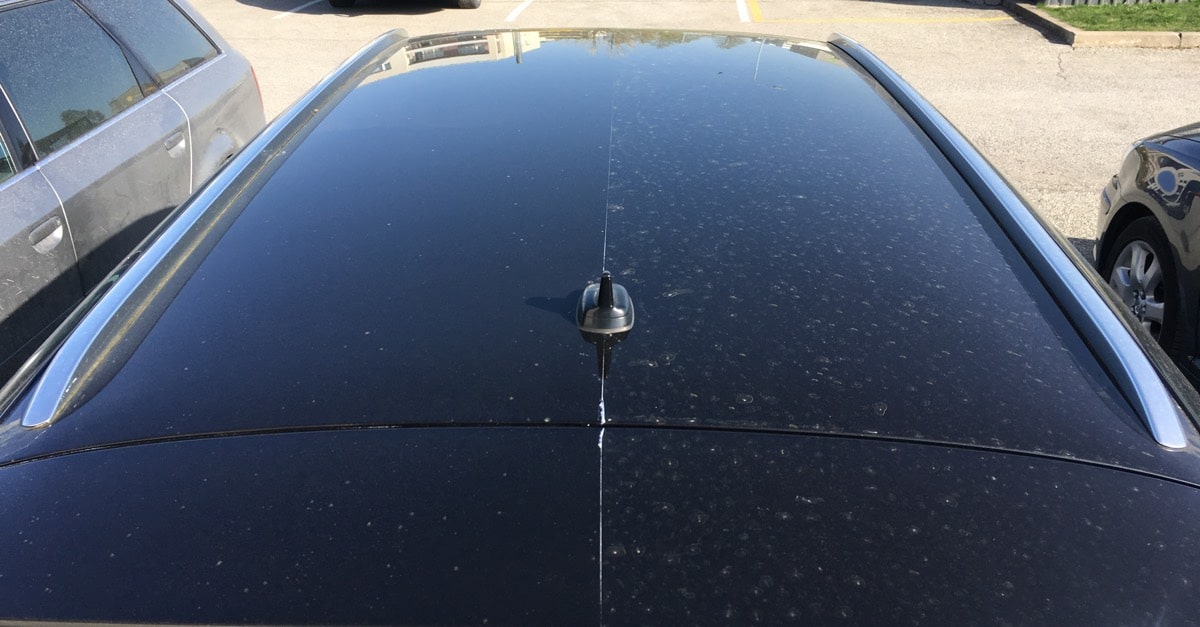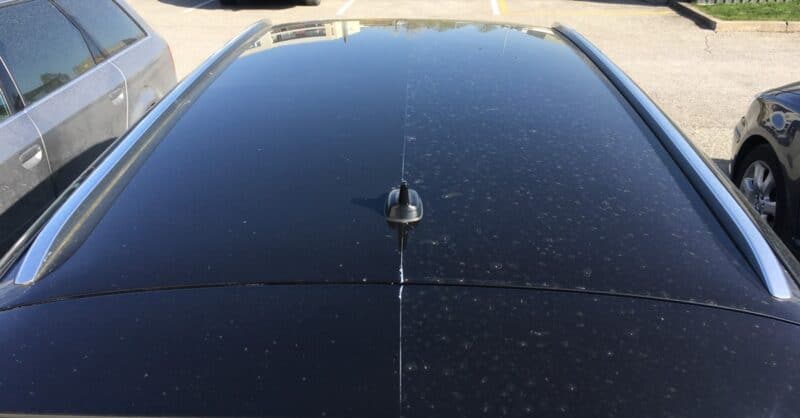 On the other hand in case new or just a car (especially dark coloured) in good condition, I would not use any so-called dangerous way to clean my car. I rather skip if possible, but sometimes you could ruin your car in just a stroke.  
Let's say you go for a cheap automatic car wash with brushes or use hand auto wash with a brush just one time.  This would be enough to get scratches on your car. 
Keeping your car paintwork surface in good condition and cover it with superhydrophobic nano-coating you can drive for a longer time with cleaner car. Note, the superhydrophobic coating won't be enough to get the high-level water runoff. 
This is what I can tell you based on my own simple test where I made the whole car super hydrophobic but only half of the car was properly polished and coated with liquid glass coating.